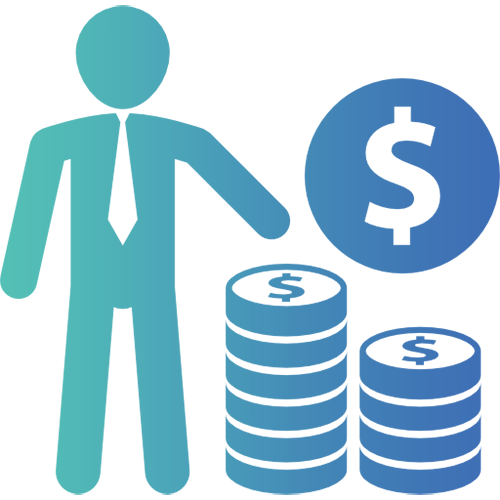 Home Loans – Self-Employed Applicants.
Are you self-employed and worried about not being able to take out a home loan? At Water's Edge Finance Solutions, if you own a small business or are self-employed you may be eligible for a home loan.
If you don't receive a PAYG payslip then you are assessed as a self-employed borrower. Applications for self-employed applicants are more complex because of the assessment of your income for servicing the loan. Because Self-Employed Loans are complex and handled on a case by case basis, please give me a call or fill out the contact form below and we can discuss your case in further detail.
Lenders often have various requirements when it comes to proof of income. Your full financial needs and requirements need to be reviewed prior to any tailored advice being provided
I Always Make Sure To Explore All The Options
 This page provides general information only and has been prepared without taking into account your objectives, financial situation or needs. We recommend that you consider whether it is appropriate for your circumstances and your full financial situation will need to be reviewed prior to acceptance of any offer or product. It does not constitute legal, tax or financial advice and you should always seek professional advice in relation to your individual circumstances. Subject to lenders terms and conditions, fees and charges and eligibility criteria apply. 
"Thank you Kerrie once again for your hard work in helping us refinance. This is the second time we have used your services and as expected, we are thrilled with the outcome. Your hard work, integrity and relatability are second to none, and we would not hesitate to use you again in the future, and will recommend you to our family and friends. It is so nice to be able to trust someone in your industry, and know that such a big life event is in safe hands. Thank you so much!"
"Thank you Kerrie for making the process of refinancing and consolidating our loans so easy! You worked around our crazy 12 hour work days and were always a phone call away anytime of the day ready to answer all our questions!
Thank you again, we look forward to purchasing our next home in a few years and you will be of course the first person we contact!"
"I would highly recommend Kerrie if you are looking for finance. She was able to help us at short notice, and was so professional and knowledgeable. Not only did we get our finance, she also saved us money! Thanks Kerrie 🙂 "
"Thanks Kerrie for sorting out our loan for the second time, so excited settled today! You go above and beyond and should be commended on your customer service, anyone needing help should speak to Kerrie, Can't wait to start our renovations!! Thanks so much."
"Thanks so much to the wonderful Kerrie for all your hard work sourcing us a home loan. Kerrie went above and beyond to make this process possible for us.
Highly recommend her to anyone needing finance.
Thanks again"
"Kerrie has definitely saved us a lot of money by refinancing our home loan. She showed us some great refinancing options, took the time to explain everything and was extremely professional. Highly recommend her services!"
"Kerrie has saved us thousands $$ by refinancing our home loan so we could buy a new car! She offers professional service while being friendly and relatable! Highly recommend her services!"
"Kerrie has that friendly service that makes you feel secure, she is one of the loveliest people in our community, but I must say she is a demon when it comes chasing our desired financial outcomes. "
"Thank you Kerrie for making the process of refinancing and consolidating our loans so easy! You worked around our crazy 12 hour work days and were always a phone call away anytime of the day ready to answer all our questions!
Thank you again, we look forward to purchasing our next home in a few years and you will be of course the first person we contact!"
"I would highly recommend Kerrie if you are looking for finance. She was able to help us at short notice, and was so professional and knowledgeable. Not only did we get our finance, she also saved us money! Thanks Kerrie 🙂 "
"Thanks Kerrie for sorting out our loan for the second time, so excited settled today! You go above and beyond and should be commended on your customer service, anyone needing help should speak to Kerrie, Can't wait to start our renovations!! Thanks so much."
"Thanks so much to the wonderful Kerrie for all your hard work sourcing us a home loan. Kerrie went above and beyond to make this process possible for us.
Highly recommend her to anyone needing finance.
Thanks again"
"Kerrie has definitely saved us a lot of money by refinancing our home loan. She showed us some great refinancing options, took the time to explain everything and was extremely professional. Highly recommend her services!"
"Kerrie has saved us thousands $$ by refinancing our home loan so we could buy a new car! She offers professional service while being friendly and relatable! Highly recommend her services!"
"Kerrie has that friendly service that makes you feel secure, she is one of the loveliest people in our community, but I must say she is a demon when it comes chasing our desired financial outcomes. "
"Thank you Kerrie once again for your hard work in helping us refinance. This is the second time we have used your services and as expected, we are thrilled with the outcome. Your hard work, integrity and relatability are second to none, and we would not hesitate to use you again in the future, and will recommend you to our family and friends. It is so nice to be able to trust someone in your industry, and know that such a big life event is in safe hands. Thank you so much!"
"I would highly recommend Kerrie if you are looking for finance. She was able to help us at short notice, and was so professional and knowledgeable. Not only did we get our finance, she also saved us money! Thanks Kerrie 🙂 "
"Thanks Kerrie for sorting out our loan for the second time, so excited settled today! You go above and beyond and should be commended on your customer service, anyone needing help should speak to Kerrie, Can't wait to start our renovations!! Thanks so much."
"Thanks so much to the wonderful Kerrie for all your hard work sourcing us a home loan. Kerrie went above and beyond to make this process possible for us.
Highly recommend her to anyone needing finance.
Thanks again"
"Kerrie has definitely saved us a lot of money by refinancing our home loan. She showed us some great refinancing options, took the time to explain everything and was extremely professional. Highly recommend her services!"
"Kerrie has saved us thousands $$ by refinancing our home loan so we could buy a new car! She offers professional service while being friendly and relatable! Highly recommend her services!"
"Kerrie has that friendly service that makes you feel secure, she is one of the loveliest people in our community, but I must say she is a demon when it comes chasing our desired financial outcomes. "
"Thank you Kerrie once again for your hard work in helping us refinance. This is the second time we have used your services and as expected, we are thrilled with the outcome. Your hard work, integrity and relatability are second to none, and we would not hesitate to use you again in the future, and will recommend you to our family and friends. It is so nice to be able to trust someone in your industry, and know that such a big life event is in safe hands. Thank you so much!"
"Thank you Kerrie for making the process of refinancing and consolidating our loans so easy! You worked around our crazy 12 hour work days and were always a phone call away anytime of the day ready to answer all our questions!

Thank you again, we look forward to purchasing our next home in a few years and you will be of course the first person we contact!"